$33.00
Hex N More Ruler by Jaybird Quilts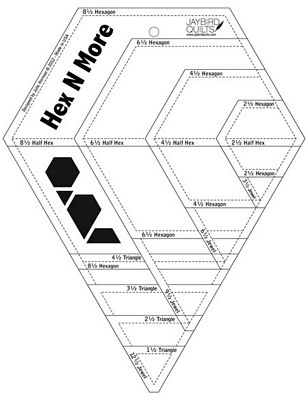 Cut four shapes in four sizes! Create Hexagons 60 degree Triangles Half Hexagons and Jewels easily with this ruler! Can be used to speed up cutting for the Tula Pink Nebula BOM quilt that starts January 2021 and 21 other Jaybird quilt pattens! See details of all patterns here http://www.jaybirdquilts.com/p/hex-n-more.html
What size pieces does it cut?
All sizes listed are finished sizes. - Pieces will include a 1/4" seam allowance when cut.
Hexagons - 2", 4", 6", 8"
Half Hexagons - 2", 4", 6", 8"
Jewels - 3", 6", 9", 12"
60° Triangles - 1", 2", 3", 4"

In stock and can be sent right away by Canada post expedited parcel.
Please note:- In stock items purchased at the same time as a pre order will be held until the pre order comes in so if you would like the in stock items to be sent out right away instead of being held please complete check out any pre order items in a new separate order.
Tangled Blossoms Design a smoke and pet free environment.
Many Thanks for your order
Fiona
x

Any further queries don't hesitate to get in touch!